Evalart
How it Works
Evaluating candidates with Evalart is very simple and consists of only four steps: Select (or create) the questionnaire or questionnaires that you want to use, create a process and send the test to the candidates, the candidates answer the questionnaires, and the results are immediately visible on Evalart.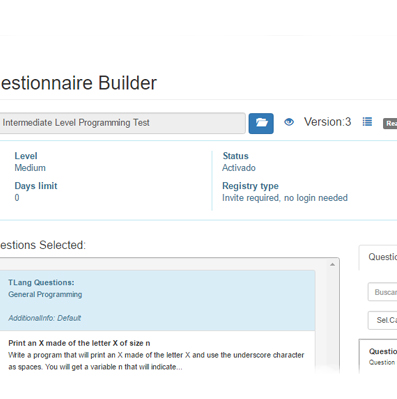 Select
or create test
The first step in beginning a selection process is to create the process in Evalart and select the questionnaire(s) that will be used in the evaluation.
Evalart has an extensive library of questionnaires and questions for its evaluations. You can browse through the various questionnaires to understand their characteristics and view a preview of the test as the candidate would see it.
It is also possible to modify existing questionnaires to suit your needs or even create a new one completely from scratch.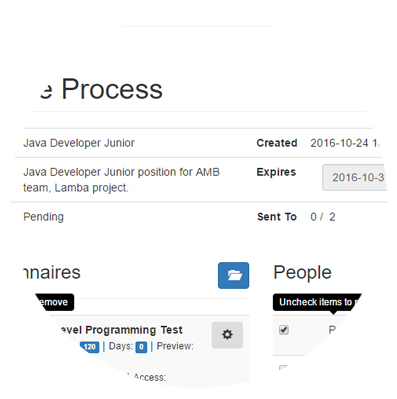 Send test
to candidates
Once you have selected the questionnaires that you will use in your selection process, the next step is to enter the emails of the candidates that you wish to evaluate.
Once this is done, you can automatically send personalized invitations to all candidates with a single click. They will receive an email with a link to access the questionnaire (s) selected for the process. You can also send the link manually to the candidates if you prefer.
If desired, it is also possible to create special processes that allow anyone to apply. For example, this can be used to post the test link on a company website or a forum inviting candidates.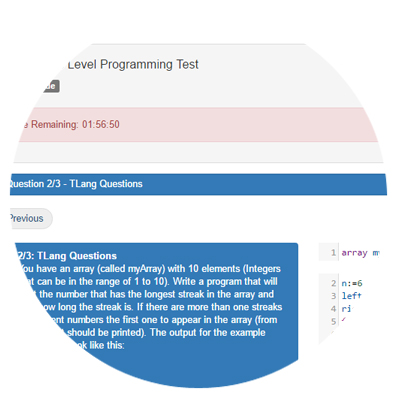 Candidate
takes test
When the candidate receives the email with the link to answer the questionnaire(s), he can take it online. Depending on the characteristics selected, the questionnaire may have a time limit to respond (either a maximum time to answer the questionnaire, such as 2 hours, or a cut-off date to respond by).
At any time during the process it is possible to view the status of each evaluation sent, which allows you to see how many candidates have already responded, how many are still pending, the questionnaires in process, etc.
When a questionnaire is answered, it is automatically scored by Evalart and the results are immediately available.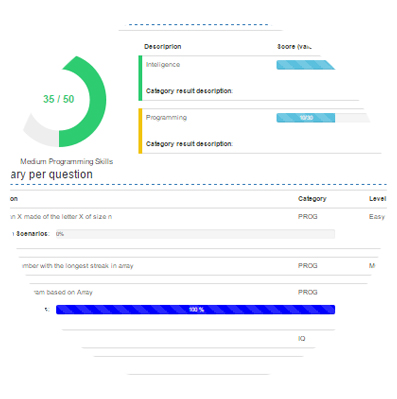 View
Results
Evalart provides very detailed reports describing the results obtained by the candidate in his evaluation. Reports can show scores obtained, scores by category, description of the score obtained and a classification, as well as details of the answers provided by the candidate, indicating the correct, incorrect and unanswered ones.
The results are stored in Evalart, allowing you to view them at any time or as a reference in future processes. Evalart allows you to search reports by process, by candidate, by score, etc.