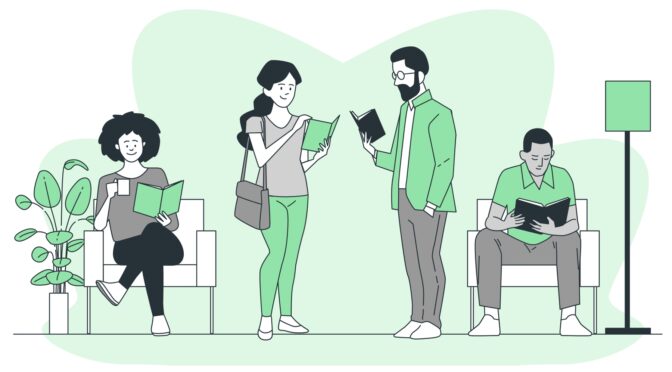 HR books are a rich resource for learning the ins and outs of the profession at only a fraction of what a more formal HR training course would cost. One of the best ways to improve your skills is to read a book, which provides a considerable amount of information in a short time.
When it comes to updating knowledge, learning new skills, or obtaining information, we tend to overlook books; in the digital age, we usually forget that they are a small investment with a significant impact on our professional lives.
Every year, new concepts, methods, and improved practices are introduced to Human Resources. Therefore, professionals in this field need to keep abreast of the latest trends and literature available if they wish to stay current.
That is the reason why we have compiled a list of ten HR books you should add to your library this 2022.
Fundamentals of HR Analytics: A Manual on Becoming HR Analytical – Fermin Diez, Mark Bussin y Venessa Lee
For any HR professional who wants to start their data analytics training or update their knowledge, this book is a great help. Throughout this reading, you will learn some of the most relevant practices in the data analytics process, such as thinking of data as a set of facts, storing and retrieving data, creating descriptive and predictive models, using the tools in the workplace, and analyzing and evaluating the hiring, development and turnover process.
The Fearless Organization – Amy C. Edmondson
The Fearless Organization was written by Harvard Buisiness School Professor Amy C. Edmondson. The book is based on nearly 30 years of research and focuses on psychological safety in the workplace and proposes the implementation of a work culture based on psychological safety, offering a step-by-step plan for doing so.
The term "psychological safety" was coined by Amy Edmondson, who defines it as "a shared belief that the team is safe to take interpersonal risks". Establishing a work climate of psychological safety allows people to feel comfortable both speaking up and sharing their ideas with their peers and asking questions and admitting mistakes to their supervisors.
HR Rising!!: From Ownership to Leadership – Steve Browne
HR Rising: From Ownership to Leadership establishes new ideas on promoting collaboration, developing credibility, and building trust in the work environment. Throughout the pages of this bestseller, author Steve Browne shows HR as a powerful tool for achieving meaningful change in the workplace.
Agile HR – Natal Dank & Riina Hellström
As a tech start-up, we understand the importance of HR agility: being fast and highly flexible to change. If you do not know what agile HR means or you suddenly realize that your HR processes are holding your business back, this guide is for you.
Bring Your Human to Work – Erica Keswin
Bring Your Human to Work is a handbook for leaders, managers, and employees of all ages and from all fields. This book offers ten ways to transform your workplace by applying a simple truth to everything you do: humanity. This book discusses HR practices employed by companies such as Starbucks and Lyft.
Love 'Em or Lose 'Em – Sharon Jordan-Evans and Beverly Kaye
For twenty years, this bestseller has offered twenty-six basic strategies that managers can use to direct their employees' real concerns and keep them engaged.
Despite booms and busts, technological advances, talent wars, layoffs, and even a global pandemic, people want what they have always wanted; meaningful work, feeling supported and recognized by their bosses, and having the opportunity to learn and grow. And managers want their best employees to stay at least a little longer.
Since replacing departing employees is extremely costly (up to 200% of their annual salary), retention is one of the main issues facing companies today.
Leaders Eat Last: Why Some Teams Pull Together and Others Don't – Simon Sinek
Leadership is not just about managing numbers and delegating. Leadership is about helping people thrive and find meaning in their work. When leaders take care of their team, the numbers take care of themselves. Unfortunately, many leaders and companies seem to have forgotten this fundamental truth. So, in Leaders Eat Last, Simon Sinek looks at where we have gone wrong and calls for true leaders to step up and make a positive difference.
The core message of Leaders Eat Last is simple: the buck stops at the leader's desk. In other words, those of us who lead do not always understand the impact our leadership roles have on those we lead.
Work Rules! – Laszlo Bock
Written by Laszlo Bock, Google's chief operating officer, Work Rules! provides insight into how Google organizes and manages its people, giving HR professionals a guide to improve their work teams and emulate the success Google has had.
Laszlo Bock shows how to strike a balance between creativity and structure, leading to success that can be measured in both qualities of life and market share.
Full stack recruiter – Jan Tegze
Throughout the pages of author Jan Tegze's Full-stack recruiter, he discusses many of the recruiting methods that exist and gives practical advice for the various factors that comprise recruiting, ranging from candidate recruitment to marketing.
This book is essential reading for beginning recruiters who want to learn about the fundamentals of recruiting with a sprinkling of valuable tips added by the author. However, it is also a good book for recruiters with years of practical experience who wish to expand their theoretical knowledge.
Hire With Your Head: Using Performance-Based Hiring to Build Outstanding Diverse Teams – Lou Adler
With more than 40 years of recruiting experience, Lou Adler is one of the leading authors on performance-based recruiting, and in this book, he offers ways to solve recruiting and hiring problems not only by making them more efficient but also by reshaping your entire process to align it with how top talent searches for new jobs, compares offers and selects opportunities.
Without a doubt, literature on the profession is available by the dozens. Regardless of the area of HR that you are in and the role you play there, there is plenty of material available.