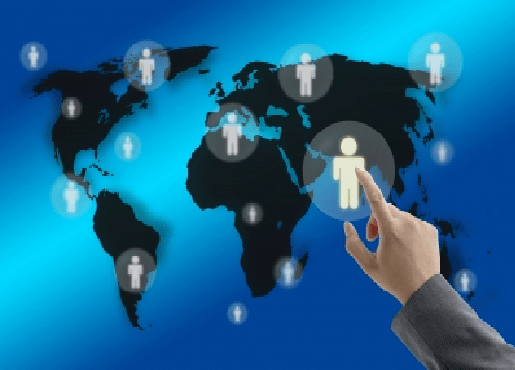 Being able to define and execute a global recruitment and personnel selection strategy for your company can be quite advantageous. To begin with, the process may seem like an attractive challenge, since this new activity can be unknown and attractive territory for your company.
Designing, constructing, and developing a global staffing policy for your business can have significant benefits.
Growth and development of your company
As your business expands, it may turn out that you don't have enough national employees with the skills required to keep up with the changes and developments of today.
Having an effective strategy for hiring personnel in these circumstances can be an opportunity to open up to a labor market in a globalized world like the one we live in.
Get over the competence
When your competitors are growing internationally, it is necessary to overcome their development and thus permit you to be able to avoid your competitors' appropriation of a market share that could feasibly be yours.
Flexibility
Each nation has different approaches to recruiting and hiring staff. A well-designed global recruiting strategy helps anticipate cultural changes and provides your organization with the necessary and adequate flexibility to meet different recruitment requirements.
Saving
The global recruiting process can be expensive. In the United States, for example, companies invest a significant amount of dollars for each new employee. Appropriate hiring strategies lead to the attraction of loyal and talented personnel, which allows lowering hiring costs related to employee rotation. These hires add value to your business and make those upfront costs worth it.
Diversity stimulation
When your organization improves its recruitment process for just your country, the quality of your international recruitment can be unequal and staff diversity can be compromised.
A well-structured global recruitment strategy allows you to adapt your recruitment and selection policies to each new country, thereby optimizing the benefits that diversity can bring.
Among these benefits, the following stand out:
Productive diversity from a variety of points of view
Strong employee engagement
Harnessing new ideas and approaches
Remote work
This modern way of working, which takes advantage of new technologies, is a reality that is gaining opportunities in the world of work and business.
In addition, to being able to reduce costs, it can also allow you to have the best talent to achieve your organizational objectives, hiring part of your staff abroad.
It is not very difficult to know where to locate local talent, in terms of requirements and salaries. However, it is not always possible to find the talent required by your organization locally. That is when it can be attractive and necessary to hire talent from other latitudes online.
One of the characteristics of remote work is that it requires guarantees of compliance. In addition to the observance of billing procedures and tax policies.
Is it beneficial to hire FreeLancer in another country?
One of the benefits of doing so is that these talents can come up with creative and innovative ideas. The foreign employee may have a different view of the market and its trends, and this is often very productive.
In addition, you can get help even on the days that are holidays in your country. Most countries do not coincide on holidays date. If you have an urgent activity or task and you can't find anyone in your region, you can hire someone online in other latitudes.
For example, if it is Sunday and you have an urgent job to do, although most workers do not work on this day, if you are in Europe, you can hire staff online in Latin America, where it is still Saturday. If you are in Latin America, in Europe it is Monday, a normal business day.
Additionally, you can get quality professional help without incurring the costs of a permanent contract. Similarly, you can compare and select from an important variety of offers and prices, and choose the most convenient for your organization.
Many agencies charge for the recruitment and selection service, many freelancers work remotely, their fees are much less expensive than what recruitment agencies charge.
Therefore, hiring freelance staff in another country provides you with qualified staff at a much lower price.
Likewise, as they are people who are knowledgeable about the business, and who are committed to fulfilling their obligations, they can generate greater productivity than hiring permanent staff.
How to hire freelancers or remote workers in another country?
Freelancers generally have their own preferred professional rate. This can be fixed per project, per hour, or word for how translators, writers, and editors usually charge.
Before hiring a freelancer, it is necessary to be clear about how you want the payment to be calculated at the end of the job. Payment dates must also be established. Some freelancers may request payment in advance or before the final deliverable is shipped.
It is also necessary to define the type of currency. Some freelancers have dollar accounts. However, for others, you will need to check if they can accept other types of exchange.
The payment method must also be established since the cost can vary from 30 cents to $50 per transfer.
It is important to put all the mentioned conditions in a contract, which will significantly reduce the risk of conflicts.
Another option may be the inclusion of an arbitration clause. Arbitration is a form of Alternative Dispute Resolution that allows a commercial dispute to be resolved without the need for litigation, thus avoiding going to court and fully addressing the resulting jurisdictional or applicable law issues.
Once payment commitments and legal jurisdiction have been established, they should be written into a Master Service Agreement or contract to avoid misunderstandings.
Finally, and very important, is the issue of talent evaluation. Tools like Evalart allow remote online assessments and video interviews to be able to identify the best talent and hire with greater security, all in a highly automated way.
Global contracting has a series of advantages that you can take advantage of with the use of new technologies.