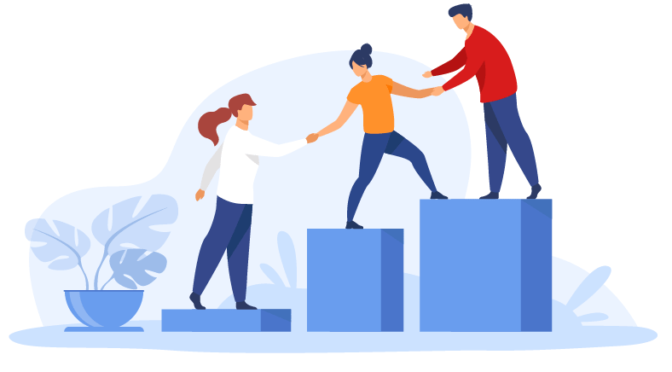 There is much talk about recruiting talent, how to retain it and attract it, but there is little written about how to handle it when someone leaves the company. Outplacement, a commonly known term in the Human Resources departments of companies, is a practice that is becoming increasingly common in our country. It is essential to help both companies and workers affected by restructuring or budget cuts due to financial crisis.
In this article, we explain what Outplacement means, what its goal is and how we could implement it within an organization.
What is outplacement?
Outplacement is a technique in which personalized assistance and accompaniment is provided to individuals leaving the company. It is a support service that organizations offer to workers who are laid off to help them reintegrate into the job market. The Outplacement process is the way in which the company, through its Human Resources department, helps a worker find a new job after losing their position due to a corporate restructuring. It is important to pay attention to these details as they can make a difference in the worker's relationship with the company and their last impression of it.
This process helps to protect the company's image after a restructuring or layoffs, and at the same time, helps the laid-off employees find new employment.
Key elements of outplacement:
To achieve success in an outplacement process and help the worker find a new job, there are some key aspects that should be considered. These are:
It is important to thoroughly evaluate skills and abilities, identify strengths and weaknesses of the dismissed candidate to determine what type of job is most suitable for their professional profile and thus identify the most appropriate job positions for them.
To be successful in their job search, it is essential to know the current situation of the job market. For this reason, it is important to provide honest and realistic information about the job market situation during the outplacement process, including the possibilities of finding a new job and the estimated time to do so.
A crucial aspect of the outplacement process is to help the worker establish their future goals, which will provide them with an action plan to continue their professional career.
Psychological counseling is an essential aspect for a dismissed worker to properly handle the situation, avoiding the development of mental problems such as depression or anxiety.
Providing tools for reintegration into the job market is essential. With the use of these resources, the process of reintegrating the dismissed worker becomes easier. It is important for the company to help the worker develop a network of professional contacts that can support them, or to prepare a solid resume.
What is the importance of investing in outplacement?
The outplacement process may seem complicated, but it offers many benefits for companies, many of which are related to improving the company's image and maintaining a good relationship with employees. Hiring this service through experts can provide great benefits for both organizations and employees. Below, the main benefits of investing in this practice will be discussed.
Improves the company's reputation.
Firstly, by helping a dismissed worker find a new job in the market, the company fulfills an important role in its social function. This attitude generates a good corporate image both internally (among employees) and externally (among suppliers, partners, etc.). Collaborators who are going through a restructuring process will feel grateful and give good references of the organization. Therefore, the company will be considered a good place to work. By helping dismissed employees, it prevents them from disclosing confidential information and speaking badly of the company in the future. They can also be an excellent recruitment source to attract new talent due to the good references they provide. A socially responsible company is highly competitive in the current market.
Maintains a positive relationship with former employees.
Another benefit is maintaining a positive relationship with current and former employees. Undoubtedly, this is important for businesses, as people are the great asset of companies. Organizations that have committed and trained employees are able to stand out in the market. In addition, a company that strives to maintain a positive relationship with its employees will have a good working environment.
Decrease in labor claims.
Due to the good relationship with employees and the support provided (mainly to former employees), the amount of labor claims is reduced. These court conflicts are not pleasant and cause a lot of damage to companies. Therefore, it is important to avoid them. When the separation is carried out in an appropriate manner, both the collaborator and the company can achieve their goals and feel satisfied.
Humanization in the separation process.
With the support provided by placement consulting, the worker tends to feel that they have been treated properly by the company, even after being dismissed. This can help to showcase the company's qualities, which is beneficial in an increasingly competitive market. In addition, this action shows employees that the company is truly interested in the professional and personal development of each person who is part of it, which makes them feel more secure and motivated to perform excellently and achieve the best possible results. All of this contributes to improving the working environment. Employees can strengthen their skills.
Reducing the negative effects of job termination.
Retaining human talent is a fundamental task in organizations, however it is not always possible. The separation process can be difficult for employees and can have a negative impact on them, causing fear and concern for the future. Outplacement helps to reduce these negative effects by providing support and helping the employee find a new job, which prevents team engagement and maintains the company's productivity levels.
In conclusion, outplacement is a human resources technique that improves the company's image and helps to humanize dismissal processes. In times of crisis, such as the pandemic caused by the coronavirus, it has been of great importance and usefulness for the re-employment of dismissed workers. In addition, it helps to increase the skills and employability of dismissed employees, improving the quality of workers returning to the labor market.