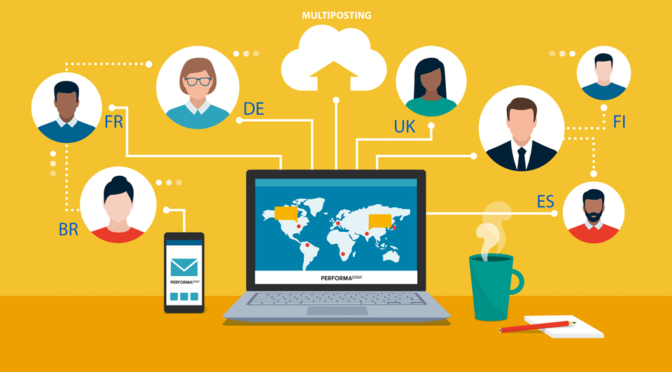 The current talent market is highly competitive, and while some positions may have many qualified people to perform them, it can be more complicated to find the right candidate for others. This is where the importance of a good candidate search lies.
The process of downloading resumes one by one during the talent search is tedious and long, and if the right candidate is not found, everything starts over. To solve this problem, it is necessary to know about multiposting, which shortens the process, saves time, finds the right candidate, and relieves the workload of the necessary area. This is possible thanks to the available recruitment software in the market that reduces all the steps to one.
Multiposting is a widely used technique to broaden the search for job profiles at the same time in different channels, such as interfaces and social media. Recruitment software and multiposting help to streamline the talent selection process and reduce the costs associated with a wrong hire. To learn more about multiposting and its qualities and advantages, read this article and achieve the best multiposting recruitment.
What is multiposting?
Multiposting is a talent search technique that involves posting a job offer in different digital media to increase its reach and improve the chances of finding the ideal candidate.
It is important to keep in mind that professionals can use different job search platforms, and their browsing time varies according to their interests. For example, a marketer may have profiles on different platforms, but they do not necessarily dedicate equal time to each one. They are likely to spend more time on the platform that offers them more connections and the possibility of directly contacting the recruiter, such as LinkedIn, which is a popular network for the business and employment world.
You can read the following article of interest:
5 TIPS TO GET THE BEST CANDIDATES ON LINKEDIN
Although LinkedIn is a very popular job platform, it shouldn't rule out any other platform. Any of them could be the place where the right talent is found. For this reason, to have more security, it's recommended not to limit oneself and to post the job offer on several channels. This is the objective of multiposting.
Multiposting is an approach that helps reduce time and repetitive tasks in a company's HR department, making their work more efficient. Some of the most distinctive features of multiposting include:
Being an efficient alternative to amplify the reach of job offers using AI.
Unifying posting criteria on different channels such as job portals, social networks and educational institution websites.
Being configurable according to each company's specific needs using recruitment software.
Benefits of Multiposting
Multiposting offers several benefits when finding the best candidate for a position in a company. Some of these include:
Cost reduction.
Automation of job postings through an applicant tracking system. This optimizes the budget and improves productivity.
Recruitment optimization by avoiding recruiters wasting time posting job offers in just one channel. This results in more contact with suitable candidates and a reduction in hiring failures.
Time-saving, multiposting saves time through the use of recruitment software, such as Bizneo, Sherlockhr, Krowdy, Epreselec, and Viterbit, which allows posting job offers on various job portals, social networks, and platforms simultaneously. These software are integrated with job portals such as Jooble, Trovit, Computrabajo, Jobomas, Indeed, Todoclasificados, Jobisjob, among others.
Increased traffic to the company's website, multiposting allows for increased traffic to the company's website. By posting the job offer on the website, candidates can interact with digital products, consume content, and understand the company's philosophy and culture. Potential candidates can become customers, increasing advertising opportunities, the number of followers on social media, and the possibility of retaining them with email marketing. Multiposting is an excellent resource for strengthening the employer brand or "Employer Branding".
How to apply multiposting in the selection processes?
Having knowledge on how to work efficiently in Human Resources requires learning how to use multiposting. In this section, practical tips are offered to consider when creating talent recruitment strategies through multiposting.
The essentials in this process consist of defining the means of publication.
To maximize the potential of multiposting, it is essential to research the channels preferred by candidates. These include general and specific job search portals, internal company recruitment interfaces, and social media, where LinkedIn is a common platform for multiposting with its tool LinkedIn Recruiter. However, it is recommended to previously research the preferred social media of the ideal candidate.
Where to do multiposting?
There are several options for applying this technique, including:
Generalist portals: Websites with job offers without sector distinction, very popular for posting vacancies.
Specialized portals: Websites dedicated to posting job offers for specific sectors, with high-quality candidates.
Pay portals: Platforms that charge for each job posting, with income depending on the number of job postings.
Free portals: Websites that allow for free job postings, but with the option to improve visibility with payments.
University portals: University portals with offers aimed at students and alumni, recommended for seeking candidates with higher education.
Social networks: Platforms such as LinkedIn, Facebook, Twitter, and Instagram, with potential for recruiting passive candidates.
It is important to include social networks in your multiposting strategy.
In conclusion, multiposting is positioned as a strategic ally within a company's Human Resources area. In this way, new technologies are tools to enhance the reach of job searches and meet the talent needs of organizations.
Therefore, take advantage of the benefits of multiposting and increase the dissemination of your job offerings; and find the right talent for your company's growth.