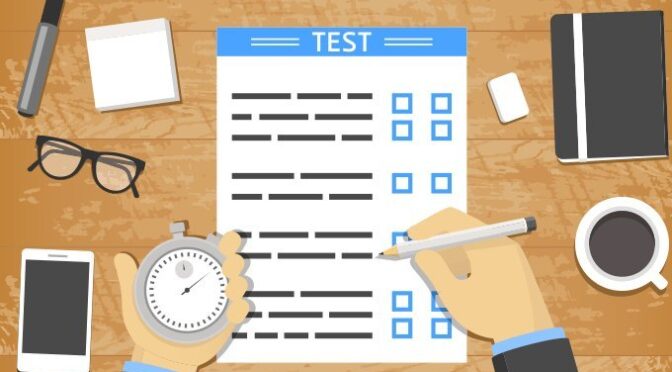 The selection process of a new member of a company is very important because not only are many resources invested before and during the selection of this new talent, but once the person is chosen, the company continues to invest in them, which can mean a great loss for the business if the right person has not been hired.
Psychometric tests are not a new resource; it is a tool that has been used since 1870 in Paris when professor Alfred Binet began to use them with his students to identify those students with higher intelligence.
Over time they have evolved, diversified, and become more and more recurrent in the selection process, to the point of being an essential tool as they allow recruiters to get closer to the predominant traits of talents and potential workers.
But, what is the purpose of Psychometric Tests?
As already mentioned, the main objective is to identify the capabilities, aptitudes, skills, values, and even taste inclinations of the participants. At the same time, they can accurately predict the potential and limitations of talent and, knowing the requirements of a position, they can give an approach to its possible growth and integration within the company.
Psychometric tests seek to guide the recruiter on the best candidate for a specific position. Although they do not replace a good job interview, they do help to give a broader picture that would be very difficult to cover in just one conversation.
In these tests there are no right or wrong answers, the objective of the tests is to identify the candidates that best match the company's standards and requirements.
At Evalart we have 9 key psychometric tests for your recruitment process. Here we explain them to you:
The DISC Test:

It is the test that gives the most information about personality traits, giving an overview of skills and even those latent aptitudes that may not be as developed. DISC refers to Decision, Interaction, Serenity, and Compliance.
Intelligence and Aptitude Tests:

These are the set of tests that measure a person's ability in specific areas. These tests are not based on knowledge, experience, or level of studies, but the potential of a candidate and are the most used in selection processes. They cover tests of General Intelligence, Verbal Aptitude, Analytical Ability, Numerical Aptitude, and Data Interpretation.
Big Five:

Or the five big factors is a test that was consolidated in the 90s, the factors that this test takes into account are, emotional stability versus neuroticism, extroversion versus introversion, openness to new experiences versus closure, friendliness versus antagonism and conscientiousness versus unscrupulousness.
Leadership Tests:

This is a very interesting topic, how to recognize a person who has the skills to be a good leader, focusing on personality traits, behavior, emotional intelligence, and assertiveness.

Honesty and Ethics Tests:

Also called integrity tests, are used to predict possible behaviors involving risk and inappropriate work behaviors, such as aggressiveness and theft, among other factors.
Teamwork:

Whether to define the possible role of a new member of a team or to measure their ability to perform remote work, so in demand and growing especially in recent years, it measures personality traits and key skills to guide in these aspects.
Vocational Orientation:

Based on Holland's Theory, RIASEC. It evaluates Holland's 6 dimensions to identify career areas compatible with the preferences of the person being evaluated, which are Realistic, Researcher, Artist, Social, Entrepreneurial and Conventional.
Occupational Risk:

These tests measure a person's ability to quickly identify risk situations that can lead to accidents and the applicant's ability to react in these situations.

Personality Inventory:

This is one of the most complete tests of a person's personality. It is an inventory that evaluates 23 specific traits, grouped into 6 basic traits. The six traits are Humility and Sincerity, Extraversion, Emotion, Agreeableness, Conscientiousness, and Openness to Experience.
In summary, psychometric tests are a powerful and very valuable tool when identifying, measuring, and selecting candidates and future employees of any organization, as it provides essential data to make better decisions that will affect not only the costs of a company but also the environment, relationships and therefore the quality of work.